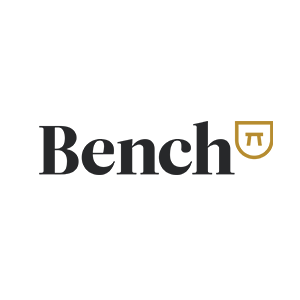 This job is no longer active
---
What's Bench? Check us out in Forbes Top 30 Under 30, The Vancouver Sun, Inc.com, Entrepreneur Magazine, the blog of Perkins + Will, The Daily Hive and our Instagram.
We're a passionate and fun group of people working hard to solve a tough problem for millions of entrepreneurs. For many small businesses, keeping up to date on their books means trading off time spent actually running their businesses. Bench solves this dilemma by taking bookkeeping off of our client's hands. We've paired sleek, user-friendly software with a team of bookkeepers to provide monthly bookkeeping at an incredibly accessible price, giving entrepreneurs the time and the confidence to run the businesses they love.
Bench is post Series B, capitalized by a team of Silicon Valley and New York investors. We're scaling fast and we're not slowing down anytime soon. In just a few short years, we've grown from four co-founders to over 400 Benchmates. It's been quite the ride so far and we're looking for the brightest minds who love solving tough problems to join us on this incredible leg of our journey. 
Why is this an exciting opportunity? 
Banking is ripe for digital transformation. Most existing banking solutions for small businesses are difficult to set up, clunky to use and expensive. This is changing fast. New technologies and infrastructure have made it easier than ever before to build modern banking solutions. And hundreds of start-ups have sprung up to build them, offering everything from banking to credit cards. We believe there is a significant opportunity to partner with these companies to offer banking solutions to our clients ('Bench Financial'). And by integrating banking with bookkeeping, we would further our lead over the competition, delivering an unparalleled experience.
We are looking for a Senior Program Manager to own the opportunity and answer key strategic questions like: Who should we partner with and what products should we offer? Which clients should we introduce their products too? How should we market and sell the service to our clients?  
To achieve this ambition, the candidate will work collaboratively with departments across the company to understand our client base, develop a go-to-market strategy, product/partnership strategy, and to operate the program smoothly day-to-day. Success means Bench clients are signing up, satisfied with the product, and that the service is on a path to long-term profitability. 
Here are some of the things you'll be getting up to:
Investigate the fintech banking products to understand which solutions would be the best fit for our clients, and work with the product and engineering teams to evaluate build vs buy vs partner. 

Own the P&L for a new Bench Financial business unit, accountable for the long-term profitability of the program

Develop a Bench Financial product strategy by building a set of product offerings that best meet the needs of our clients and the needs of our business

Develop a Bench Financial go-to-market strategy by working with our sales, expansion and marketing teams to develop an effective marketing message and sales motion.

Present an overview of the fintech banking market today to the executive team, and develop a point of view on where it's going.
You're a great fit if you have:
5+ years of experience in a strategic role at a SaaS company, or in management consulting, investment banking, venture capital or related field
The extra details:
This is a full-time position, and annual salary will be based on experience

We offer an extended benefits package that includes health, dental, vision, massage, and a Wellness Fund

Our office is in the centre of downtown Vancouver and easily accessible via transit