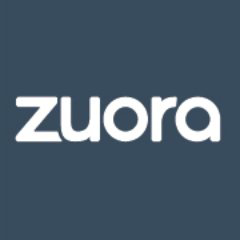 Apply Now
---
Our Vision & Mission
For the last 100 years, companies have operated primarily under a product-centric business model, where the goal was to make, ship, and sell more units. Today, there's a demand to have products and services delivered on a continual, subscription basis; to upgrade and access new innovations and features constantly. This is the end of ownership and it changes everything. Our vision is "The World Subscribed" where one day every company will be a part of the Subscription Economy® (a phrase coined by our CEO, Tien Tzuo).
Zuora's leading, cloud-based software solution automates all subscription order-to-revenue operations in real-time for any business. Companies in any industry can launch new businesses, shift products to subscription, implement new pay-as-you-go pricing and packaging models, gain new insights into subscriber behavior, and disrupt market segments to gain competitive advantage.
OUR TECH STACK: Java, Spring, Rest API, Microservices, Kafka, Spark, NodeJS, AWS, Kubernetes, Terraform, AngularJS, CI/CD tools (e.g. Jenkins, Ansible, Puppet, Terraform, python, go.), SIEM like SumoLogic, Splunk, ELK, SOAR like komand, demisto
Develop frontend applications using cutting-edge frontend framework like Angular, ReactJS, NodeJS and vanilla Javascript.
Own the front-end development of one of Zuora's core products and collaborate with product managers, designers, and other engineering teams to drive innovation in product features and user experiences
Identify ways to improve the tools and processes that the team uses to build, test and release software
Work with our documentation, support and customer success teams to provide help, fix customer-reported issues and handle escalations
Foster a strong culture of customer empathy, encouraging the team to focus first on solving customer problems
Requirements
3+ years of hands-on experience delivering modern web-based software products and applications
Solid grasp of fundamental Javascript, HTML and CSS concepts and techniques
Experience in using modern Javascript frameworks (such as Angular, React, or Vue) and CSS pre-processing frameworks (such as Sass or LESS)
Experience using Node.js and related build and automation tools and frameworks
Excellent communication skills, Innovative thinking, and can-do attitude
Proficient verbal and written English communication
Experience with Angular 2+ will be a good advantage
About Zuora
Zuora provides the leading cloud-based subscription management platform that functions as a system of record for subscription businesses across all industries. Powering the Subscription Economy®, the Zuora platform was architected specifically for dynamic, recurring subscription business models and acts as an intelligent subscription management hub that automates and orchestrates the entire subscription order-to-cash process, including billing and revenue recognition.
At Zuora, every employee is the CEO of their career and leading our mission are over 1,200 passionate and innovative ZEOs who value freedom, responsibility and accountability in equal measure because they have the capacity to make shift happen. Our culture isn't an empty branding effort – our ZEOs love working here and it shows in our rating on Glassdoor. We take it very seriously. We encourage our employees to be curious, creative, and stay focused on our shared mission of enabling our customers to be successful.
Zuora serves more than 1,000 companies around the world, including Box, Komatsu, Rogers, Schneider Electric, Xplornet and Zendesk. Headquartered in Silicon Valley, Zuora also operates offices in Atlanta, Boston, Frisco, Denver, San Francisco, London, Paris, Beijing, Sydney, Chennai and Tokyo.
At Zuora, different perspectives, experiences and contributions matter. Everyone counts. Zuora is proud to be an equal opportunity employer committed to creating an inclusive environment for all.
To learn more visit www.zuora.com